Hand Cycle Modifications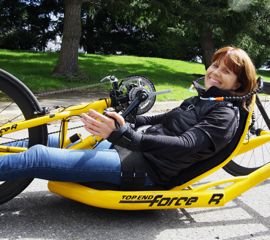 Karen March is a highly accomplished athlete who has competed in wheelchair sports all over the world, including the 2004 Paralympics in Athens.
Her latest passion is paracycling, in which competitors use their arms to power a recumbent three-wheeled racing bike in often long and gruelling road races.
But Karen, who became quadriplegic following a car accident in 1988, discovered that she was at a huge disadvantage in her racing category. Unlike her peers, she doesn't have the fine motor dexterity in her hands to be able to control the brakes and gears located on the bike's handlebars. Instead, each time she wanted to change gears or apply the brakes she had to unclip her gloved hands from the bars, which slowed down her racing time considerably.
So in 2010, she and her husband, Peter Lawless – who is also her coach – came to CanAssist for help.
Our engineering team's first step was to find a way for Karen to shift gears while keeping her hands on the handlebars.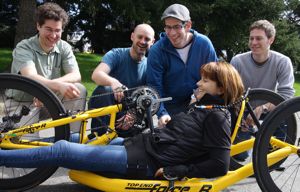 "We had to create something that would let her arms stay locked in, but would let her shift gears when she needed to," says Peter McGuire, an electrical design specialist at CanAssist.
Working with a commercial electronic gear system, he and Paul Green, a work-study student, interrupted the existing wiring and installed a "sip-n-puff" device that would allow March to change gears using her breath. By sipping or puffing into two tubes positioned near her mouth, she could easily shift her bike's front and back gears.
The next step was to find a way for Karen to brake without disengaging her arms from the handles.
Co-op student Ken Von Schilling, with the help of CanAssist's Brandon Fry, came up with a plan for a new housing and brake system that incorporated a one-way ball bearing device. The result is that the bike's brakes are engaged by pedalling backward – the same way an old-fashioned single-speed bike operates. The difference is that because Karen's bike has many gears, making this work was extremely complex.
Brandon, a mechanical design specialist, says the final touch on the racer was a transparent chain guard. Because the bike's chain sits so close to Karen's face, a chain guard is a necessary safety feature. Making it transparent increased her field of vision while cutting holes in it reduced the racer's overall weight and air resistance.
"All the changes were made with the goal of helping Karen to be more competitive," says Brandon.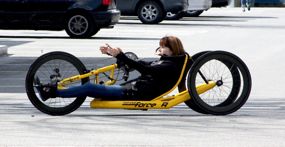 In the end, CanAssist's work was an enormous success and helped Karen compete on a level playing field with others in her racing category. She won a major race in Montreal soon after the modifications were made and went on to win two Gold Cup medals at the UCI World Cup in Segovia, Spain, in June 2011.
"I will say it over and over – if not for the system CanAssist made for me, this would have never happened," said Karen, who hopes to compete in the Paralympics in London in 2012.
(This technology was delivered in April 2011. See the related news story.)



Go to CanAssist's Video Gallery to view more technology videos.


Go to Top