Sensory Stimulation Bed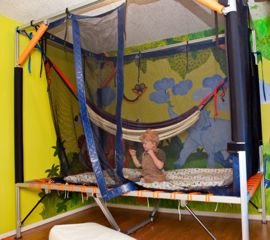 What is it?
The Sensory Stimulation Bed was developed for a young boy with Smith Magensis Syndrome both to provide him with sensory input in a safe environment and to help him sleep.
Key features
trampoline
a padded wall covered in foam to provide safe surface/texture
thin memory foam mattress as sensory input
double hammock
Who is it for?
This bed provides a way for a child who is constantly in motion to have their own sensory stimulation in a safe environment.
---
Duane's story
Duane is a busy little guy with an energy level that leaves his family sleep deprived. The four-year-old loves to play and explore – sometimes it feels like 24 hours a day!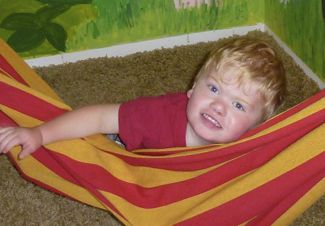 Duane was born with Smith Magenis Syndrome, a genetic disability that can lead to a wide variety of challenges in children. The most common features of SMS include mild to moderate intellectual disability, delayed speech and language skills, distinctive facial features, sleep disturbances and behavioral problems.
Duane's high level of activity is exacerbated by an inability to soothe himself, which means that he spends very little time at rest or sleep. To try to calm himself, Duane bangs his head against hard objects, such as the wall or floor.
While working with a behavioral specialist, the idea of a sleeping apparatus that would support Duane's need to move constantly and also safely allow him to bang his head was raised. The behavioral therapist referred the family to CanAssist.
Mike Lewis, of CanAssist's mechanical engineering team, led the project. He began by designing an aluminum bed frame that would reach eight feet high to almost touch the boy's bedroom ceiling. Instead of a typical box spring and mattress, Mike developed a customized trampoline to form the base of the bed and placed a thin memory foam mattress on top of it for added cushioning.
The second portion of this project involves the upper area of the bed, which encloses Duane at night in a safe and comforting way. In place of a headboard, Mike attached a piece of wood securely to one end of the frame and covered it with firm, colorful foam – a safe place for Duane to bang his head.
A special hammock made of stretchy spandex was then attached to each upper corner of the bed frame. And, finally, the entire bed was enclosed with a mesh net that covers each side to ensure safety and create a soothing cocoon. This mesh enclosure includes a place to exit safely, similar to the type seen on enclosed trampolines.
"The bed has a bunch of different ways to provide sensory stimulation for Duane," adds Mike. "He can bounce, swing, climb and hit his head whenever he wants to. He can also enjoy feeling all the different surfaces – they provide a lot of different textures for him to explore."
Mike says the customized bed – a project that has been relatively large in scope – will be delivered to Duane's home around the end of June or early in July.
Go to Top