Headband-Operated EMG Switch with Mouse Click Box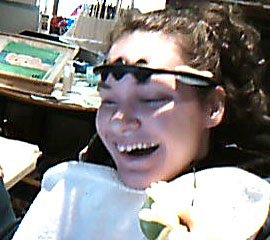 In many ways, Lee Harroway is just like other teenagers. She loves listening to music, she's intrigued by computers, and she occasionally tries to get out of doing her homework.
But Lee's teen years are considerably more challenging than those experienced by most of her peers. With cerebral palsy, along with vision and hearing impairments, the 19-year-old student from Delta, B.C., is greatly restricted in both her activities and her ability to communicate.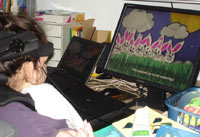 When Lee was 17, Gerald Harris, of the B.C. Provincial Outreach Program for Students with Deafblindness, got in touch with CanAssist on the teenager's behalf. Gerald had heard about a CanAssist technology that helps people control communication systems by contracting their facial muscles. He wondered if Lee, who is unable to use her hands, might be a candidate.
CanAssist's solution was a Headband-Operated Switch with Mouse Click Box. The device relies on a technique called electromyography (EMG), which evaluates electrical signals associated with muscle movement. Lee was fitted with a special headband lined with surface electrodes that pick up these signals when the teen contracts her facial muscles. The headband is attached to an EMG unit that processes the signals. When the signals exceed a certain pre-set threshold, a special Mouse Click Box is activated. The Mouse Click Box, in turn, can be programmed to control a function on a computer.
"This technology has opened up a bigger world for Lee," says the teen's foster mother, Pat Tombe. "It has brought her into social contact with people in the community."
Before using the CanAssist system, it was difficult to determine the extent of Lee's abilities.
Now Lee has control over some functions of her computer and can more easily communicate. For example, with a decisive furrowing of her brow she can take pictures of herself with the computer's webcam, a much-loved activity that elicits huge smiles and lots of laughter. She can also use PowerPoint software, for activities such as cutting and pasting, which will help her as she enters a modified online Grade 11 program.
Sunny Vardhan Mahajan, CanAssist's
Technical Coordinator, says that the device has many potential uses. "We can program the system to mimic any computer key stroke or any mouse function," he explains.
Back in Delta, by connecting the headband technology to a voice output system -- in this case AbleNet's "Step by Step" -- Lee is able to make simple statements and answer questions by contracting her forehead and having the system speak for her.
Another use of the system involves connecting it to a power relay system that activates everyday switches. In this configuration, Lee is able to turn various electrical devices on and off, such as a lamp, a fan and a baking mixer. Her foster mom has even set up the system so that Lee can use an electronic pump to water the plants in her garden.
"Having some independence and control have impacted and expanded Lee's world," says Pat. "This technology has allowed her to participate in activities that she never experienced before."
(This technology was delivered in September 2009. It continues to benefit many clients.)

Go to Top