Head-Activated Piano Pedal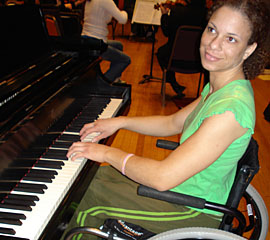 Imagine being a talented musician who loves to play the piano. Now imagine being unable to express your gift fully because you're not able to use the piano pedals.
This is just the situation that was brought to CanAssist.

Emily is a pianist working on her Master's Degree in music. Although she has full use of her upper body, Emily requires a wheelchair and cannot use her legs to push a piano's pedals. Her instructors at the University of Tennessee felt that at Emily's level of expertise, it was very important that she be able to use the pedal that sustains notes.
So Emily's aunt contacted a friend who helped search for someone who could help. They discovered CanAssist and sent us Emily's specifications.
The CanAssist team set to work, creating a two-part technology: a mechanical device that sits on the floor and attaches to a piano pedal, and a headband containing a wireless sensor that measures changes in its own position. The sensor wirelessly communicates its position to the device on the floor, activating it to push down or release the pedal. So, wearing the headband, when Emily tilts her head down, the pedal is pushed down and the notes she is playing are sustained. By tilting her head up, the pedal is released.
"For me, being able to activate the piano pedal is very important. This device allows me to play certain songs that I would not otherwise be able to play," says Emily.
Although CanAssist was not able to deliver the device in person, we provided Emily with an instructional video. She responded by sending us a video too, in which she plays the piano very beautifully using her new device.
"I feel that having the pedal device allows me to express myself musically in a way that has enabled me to develop varying moods in a piece," Emily explains.


Go to CanAssist's Video Gallery to view more technology videos.


Go to Top