Alert Button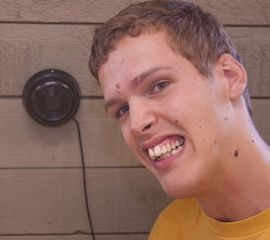 Dan Spelt was happy to know that a small gadget such as a doorbell could solve an ongoing nighttime challenge.
Dan is a part-time research assistant at CanAssist with a passion for all things technical. "He loves gadgets," says Tanya Switucka, CanAssist's client relations manager, "so he's really found the right place to work!"
Dan has cerebral palsy and lives in his grandfather's basement suite. At night he relies on his caregiver, Loveline, who stays in a bedroom down the hall from him. The only system they were using in case of emergency was for Dan to call out.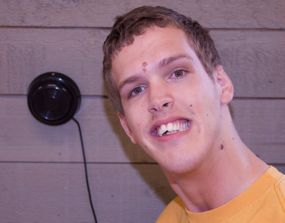 "I would shout," Dan says, "but it didn't really work."
Peter McGuire, an electrical design specialist at CanAssist, was able to solve Dan's problem by adapting a low-cost wireless doorbell kit.
"We like to be able to modify products that are already out there," Peter says, "and this made a perfect calling system for Dan."
The doorbell kit comes equipped with two parts: a doorbell receiver, which makes the chime and is plugged into the electrical outlet in the caregiver's room, and the doorbell button, which is placed in Dan's room.
Because Dan can't rely on his arms and hands to navigate his environment, Peter attached a large button – about the size and shape of a hockey puck – to his bed's headboard so that Dan can access it with the motion of his head. The "guts" of the doorbell, as Peter calls them, along with the actual doorbell button, are encased in a small black box and plugged into a nearby outlet.
When Dan hits the button with his head, the encased doorbell button is electronically activated and transmits a signal wirelessly to the receiver in the caregiver's room, causing the receiver to chime.
The system is unique in that it can be programmed to be activated by any pattern of button pushes that are most suitable to the client's needs.
"Dan has to hit his large button three times in the span of five seconds to activate it, which means it is only activated when Dan really needs it," says Peter.
For a gadget lover like Dan, the more beeps and buttons, the better. After all, it was Dan who requested that Peter program a beep to sound on his side to indicate a successful transmission.
"The wireless button gives me comfort knowing Loveline is a button away," Dan says. "I feel safe now."
Go to Top