Adapted Video Camera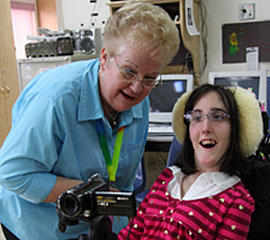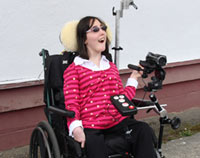 Though only 16, Sidney Hodgson is getting the chance to explore what it would be like to work in journalism. She's shooting video footage of local events, taking photos at her school and even putting together a documentary.
The student from Port Alberni is one of 10 teenagers from across B.C. taking part in a pre-employment initiative that lets them test their interest in journalism with video technology customized for their needs. The initiative is sponsored by Special Education Technology BC (SET-BC), a Ministry of Education Provincial Resource Program. SET-BC approached CanAssist in 2008 to adapt standard video cameras so that students with various types of special needs could practice their reporting skills.
In response, CanAssist engineers designed a mounting system that holds a video camera in place and can be easily attached to a user's wheelchair. The researchers also created a control panel with large, easy-to-push buttons that operate functions such as recording, zooming in and out, taking still photos, and turning the system on and off. In addition, each of the young reporters received CanAssist umbrella holders, which attach to their wheelchairs to protect them and their equipment from sun or rain.
"It amazes me, what Sidney can do now," says Jeanette Salsman, the teen's Special Education Assistant. "She navigates the camera system all on her own, she zooms in and out and takes pictures and videos."
Sidney, who has cerebral palsy, has quickly become adept at taking photos and video footage at her school and in her community. Her outgoing nature and her many friends mean there's no shortage of subject matter. Most recently, Sidney covered a friend's gymnastics class. She's also working on a documentary that focuses on her experience with the camera.
Sidney, who attends Alberni District Secondary School, used a communication device to tell the CanAssist team that using the new camera makes her feel really "excited."
Not only has the camera system helped Sidney hone her reporting skills, but it is also benefitting the exuberant teenager in other ways.
"Using the camera system is really expanding Sidney's boundaries," Jeanette explains. "And I've noted an improvement in her dexterity and her willingness to try to use her hands."
The teachers of these aspiring young journalists are looking forward to having their students use the adapted video cameras to report to their peers during the 2010 Winter Olympics and Paralympics.
As her camera was being set up, Sidney was curious to learn about the other technologies CanAssist develops. CanAssist staff mentioned our Outdoor Ball Launcher, which attaches to a wheelchair and makes a game of fetch with a dog easy. Sidney immediately recognized an opportunity to spend more quality time with her pets, Hooch and Charlie.
The ball launcher will be delivered soon. No doubt Sidney will take some great photos and video footage of Hooch and Charlie as they chase and retrieve balls.
Funding for the video cameras and their adaptations was provided to SET-BC by a generous grant from Ronald McDonald House Charities.


(This technology was delivered in March 2009.)
Go to Top