iPod Switch Interface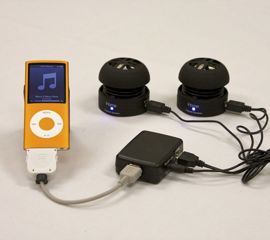 What is it?
An adapter for an iPod, iPhone or iPad that allows music to be controlled with accessibility switches. Using one or two switches, a person can choose a song, pause, skip forward and back, and change the volume. The device has multiple modes, ranging from extremely simple (push to play) to a more full-featured approach, depending on the ability of the user.
Key features
Voice prompts for basic Apple iPod functions
Controlled by accessibility switch (3.5 mm port)
5 operating modes, including a training mode
Rechargeable speakers or headphones included
Attaches to a lanyard, wheelchair or armband
Who is it for?
For people with a wide range of disabilities (physical, visual, cognitive, and so on) who are unable to use a regular iPod to play music.
---
CanAssist's iPod Switch Interface
With the proliferation of MP3 players and other handheld devices, most of us take for granted how easy it is to access music today. But for many people with dexterity, vision or even cognitive challenges, having direct control over their music has never been possible.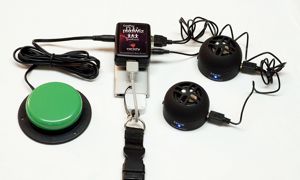 Following a request from a group within the B.C. Ministry of Education, Carl Spani, an electrical engineer at CanAssist, took an off-the-shelf Apple iPod and created an adapter for it. The unobtrusive adapter attaches to the iPod and allows the music player to be controlled by a single button or switch - the location of which can be determined by the user. Users can select functions such as Play, Pause and Skip Forward/Backward, as well as making volume adjustments, all by pressing a single, large accessibility button.
By the end of 2010, the system had been sent out to about 200 young people with very challenging disabilities, ranging from a four-year-old girl to students in their late teens. These initial recipients were deemed among the most severely disabled in B.C.'s school system.
"We delivered it to some local schools and some of the kids were figuring out pretty quickly out how to use it," says Carl. "They were listening to everything from Mary Poppins to Miley Cyrus. It was pretty neat."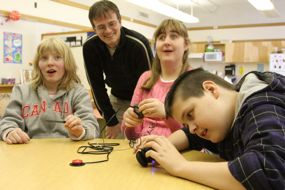 The system includes either rechargeable external speakers or special headphones, depending on each user's preference. In addition, there are five modes of operation - from simple to more complex, as well as a training mode - so that the adapter can be tailored to meet each individual's needs.
The system also provides voice prompts for the main functions, eliminating the need for visually-impaired people to read the iPod's display.
Typically, the system attaches to a lanyard that hangs around the user's neck; but it can also be fastened to a wheelchair or armband. Some users are able to use two switches to control the iPod's more advanced functions.
Carl says it's exciting to know that so many young people with special needs are now able to use the same technology as their able-bodied peers.
After securing an agreement with AbleNet Inc., an international distributor of assistive devices, CanAssist's device was commercialized and made available for sale to customers around the world.
Go to Top