Behaviour in the Early Years

Welcome!
The Ministry of Education and Child Care has funded CanAssist at the University of Victoria to lead the Behaviour in the Early Years Initiative. The materials have been developed through the active involvement of the BC child care community and other experts in early childhood development.
Why do we need the Behaviour in the Early Years Initiative?
BC child care educators and early childhood professionals are essential in building happy, healthy communities across the province. We work with children, families, and community partners to create flexible, positive, and inclusive settings where all children can play, learn, and grow. Inclusive child care describes high quality programs that promote a sense of belonging, participation, and equity for all children. In an inclusive child care program, children with a range of skills and abilities are able to reach their full potential – in their own way and at their own pace.
Consultation processes showed that valued members within the child care community need support, strategies, and tools for understanding and supportive the diverse behaviours encountered in child care centres. The Behaviour in the Early Years Initiative deliverables works to help meet those needs, closing existing gaps and offering strategies for inclusive and respectful approaches to behaviour, which will benefit all individuals within care environments.
Initiative Deliverables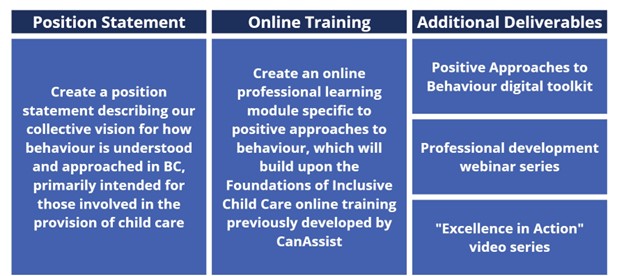 Want to stay connected to our work?
Follow us at canassistuvic on Instagram and Facebook!
For general inquiries or project information, please email canassistsp@uvic.ca
Go to Top