Switch-Activated Writing System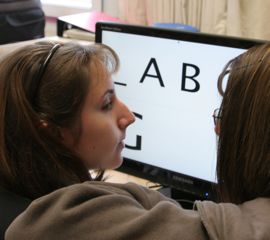 Meagan Dean is as smart as a whip: she loves to learn and challenge herself, she can solve quadratic equations in her head, and she dreams of becoming a children's author someday.
Living with a genetic disorder called Mitochondrial disease, Meagan has acute vision and hearing impairments, as well as difficulty moving her limbs. Last fall, the 16-year-old girl from Agassiz, B.C., made excellent progress with a computer program adapted for her by CanAssist that lets her read electronic books on her own. But Meagan has never been able to write independently.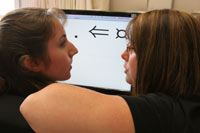 While there are many commercial writing programs available for people with disabilities, none of them has ever worked for Meagan because of her very limited vision and inability to type. Instead, the teen has always relied on an intervenor - someone who essentially translates her speech and sign language so others can understand her.
"Up until this point, all Meagan's communication with the outside world has been through a person - through her intervenor, her parents or her teacher," explains Dr. Melanie Baljko, a visiting researcher at CanAssist from York University. "Her team of caregivers said, "Wouldn't it be great if she could write independently?""
So Melanie designed the Switch-Activated Writing System, which has enabled Meagan to write on her own for the very first time, typing memos on her computer to family and friends.
The writing system uses a technique called "scanning," in which the user is presented with several groups of letters, which appear one after the other on a computer screen. In Meagan's case, her vision only lets her see five letters at a time. So, if she wants to spell "Hello," for example, she waits for the group of letters that includes the letter "H" to flash on her screen. When this group appears, she clicks a switch held in her hand. The group of letters stays on the screen and each of the letters in the group is highlighted in turn. When the "H" is highlighted, Meagan clicks the switch to select this letter. Then the whole process starts again for the next letter, "E."
"Meg has been clicking away with her program. She writes a letter and then I email it off for her," says her mother, Brenda Dean. "I must tell you how incredible it is to see Meg writing on her own! It truly brings tears to our eyes."
CanAssist's writing system is different from commercial products in a number of significant ways. For starters, the letters on the screen can stand four inches high so that Meagan is able to see them. If Meagan's hand gets tired from clicking the switch, she can also use an EMG switch, which is activated using other muscles in the body. In addition, the system automatically records Meagan's use of the program, so there is a detailed log of her reaction times, the types of errors she makes, the letters she uses most frequently, and so on. This information is invaluable for fine-tuning the program as Meagan progresses.
"It's a way to be sure that when you're giving someone a system, you know it's the most optimal for them," Melanie explains. "So if, for example, you know that they tire after 17 minutes, you can have the software adapt for that and automatically slow down after 17 minutes."
Importantly, the writing system is easily tailored for users with a variety of needs. Clients can change the number of items displayed at a time, the speed at which they appear, the font, colors, and so on. There is also a choice as to whether a person scans for letters, pictures or other symbols. Pictures might be used by a very young child, for example, or by someone who isn't literate.
Since receiving her new system, Meagan has been writing every day, composing chatty letters to friends and relatives. CanAssist hopes to create a more advanced version, which will allow her to send email. One thing is for certain: next year at school, Meagan will be able to write assignments on her own for the first time.
Meagan recently sent a note to CanAssist, using her new writing system, of course.
"I love this program because it makes me feel incredibly independent," she wrote.
In addition to being able to choose letters, Meagan can also select punctuation and spaces, and perform functions such as edit, delete, print and save.
"It is very obvious that CanAssist spent a lot of time understanding who Meg is, and what she is capable of doing," says Brenda. "We can only thank you from the bottom of our hearts for understanding how important that is to us and Meg."
(This technology was delivered in May 2009.)
Go to Top