A testimonial for the Dynamic Keyboard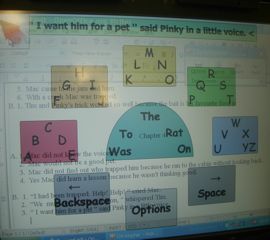 Grade 2 student gets great results with the Dynamic Keyboard
Christopher, who has cerebral palsy, attends elementary school on Salt Spring Island. He is in a split Grade 2/3 classroom and is part of the Grade 3 reading group. He uses a Dynavox V for communication and for schoolwork uses a combination of Open Office and CanAssist's Dynamic Keyboard. The following is a testimonial from a member of his educational support team: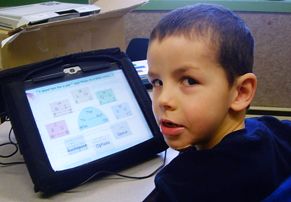 The use of the Dynamic Keyboard has been very positive for Christopher. It has given him much more independence as a student, so he can answer questions and express ideas without having to work as a team with an education assistant (EA).
Prior to using the Dynamic Keyboard, Christopher was completing the same curriculum as his classmates. However, he accomplished this by spelling out answers using a laminated alphabet and then having an EA either transcribe them or help him to print his answers hand over hand. His teacher sometimes prepared sheets so that rather than printing the entire sentence, he could print keys words into the blanks. All of these methods were challenging and required full EA support to complete all his work.
Using the Dynamic Keyboard
Now an EA only has to make sure that Christopher is set up, by opening his programs and the document that he is working on. Then he is able to work very independently. As well as feeling very independent and being able to show what he knows, Chris also now has a venue where he can make mistakes. Before, when he worked as a team with an EA, his work was always correct. Now his work is just like the other students! Chris not only answers the questions, but edits his work for capitalization, punctuation and grammar.
Chris is an extremely hard worker and is very proud of the work he is doing.
This testimonial was provided by Suzanne Harwood, a consultant with SET-BC. SET-BC is a BC Ministry of Education Provincial Resource Program established to assist school districts in educating students whose access to the curriculum is restricted due to a range disabilities.
More information:
Go to Top