The development of the Dynamic Keyboard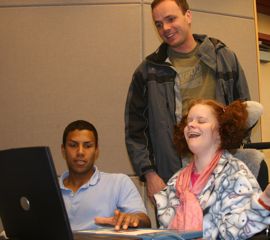 The Dynamic Keyboard was initially designed as a method of typing in conjunction with another CanAssist assistive technology called the CanAssist Eye-tracking System.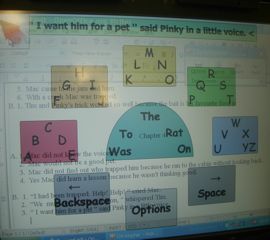 With eye-tracking systems, users move the mouse cursor by looking at the position where they want the cursor to move to on the screen. However, the effectiveness of these systems decreases if there are too many on-screen targets from which the user can choose or concentrate on – essentially, this leads quickly to user fatigue. Therefore, a smaller number of interface items (such as the number portrayed on our Dynamic Keyboard interface) leads to more effective results.
Since those early days as an eye-tracking interface, the Dynamic Keyboard has evolved to:
work with many different input devices, including the IntelliKeys by IntelliTools®, single switches of all kinds, as well as joysticks, mice and trackballs; and
include statistical predictive typing algorithms.
From the beginning, we have worked directly with many people with disabilities so as to continually test and improve this technology.
Versions of the Dynamic Keyboard
May 10, 2013. Dynamic Keyboard 1.05
This version corrects a bug where the keyboard did not type into other applications on some systems.

April 17, 2013. Dynamic Keyboard 1.04
This version improves compatibility with Windows 7, and corrects issues with the dictionary editor.

August 10, 2009. Dynamic Keyboard 1.01
Version 1.01 of the Dynamic Keyboard is released. This version fixes an issue where the word completion function did not work in certain situations, and includes a new compact layout for the IntelliKeys Keyboard.
May 21, 2009. Update For Dynamic Keyboard
The Dynamic Keyboard installation file is updated to address a problem where the voice output did not work on certain systems. All users are encouraged to update to this release.
Dec 15, 2008. Initial Release of the Dynamic Keyboard!
CanAssist is proud to release Dynamic Keyboard 1.0. This is the first public release of the Dynamic Keyboard, after extensive testing and refinement based on the feedback of users with disabilities.
Acknowledgements and contributors
The first prototype of the Dynamic Keyboard (then called Box Speller) was created by David Marotto, a CanAssist co-op student, during late 2005 and early 2006. The project was further developed and continues to be managed by Leo Spalteholz, CanAssist's manager of hardware. More recent developments have been undertaken by two co-op students, Matthew Guze and Caitlin Blank.
Throughout the development period, we have benefited greatly from the testing efforts of our volunteers. CanAssist would, therefore, also like to thank April, Kathleen, Val, and Iain, as well as many others for their tremendous contribution to testing the Dynamic Keyboard. We would also like to thank Chris Newcombe for conducting the scientific study on the Dynamic Keyboard.
More information:

---
| | | |
| --- | --- | --- |
| | | CanAssist would like to thankShaw Communications for supporting the development of the Dynamic Keyboard. |



Go to Top