Our Team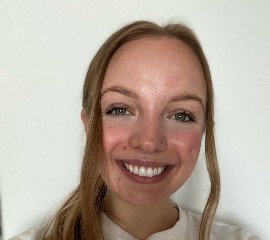 Emily's role as project analyst for the BC Employment Strategy for Youth with Disabilities is very dynamic. She has worked on everything from research to social media, report writing, and video editing. At the core Emily is responsible for organizing and reviewing relevant research and information and translating it into public project materials.

As a recent graduate from the University of Victoria, Emily obtained her Bachelor of Science in Psychology and brings a passion for mental health and wellbeing to her role. Through her own journey she understands the value of open discussion and accessible support in regard to mental health. She aims to help open the conversation and break down stigma around mental health challenges.
Further, Emily has been employed since she was 15 years old and worked in a number of different fields and positions. Because of this she has a deep understanding of youth's experience navigating BC's current employment field. She also understands and has experienced the positive impact workplace supports and accommodations can make on an individual's employment journey.
When Emily is not working, she is passionate about fostering her own mental health and well-being. Some way she does this is through reading, getting outside, staying active in the BC Cheerleading community, and spending time with her dog, friends, and family.
Go to Top