Our Team
Pascalle Ricard
Media Coordinator
Pronouns: she/her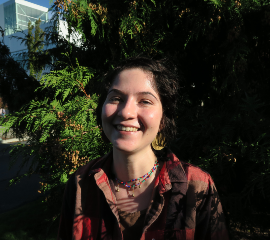 Pascalle is a Co-op student working as the Special Projects Assistant to develop an inclusive child care training module. She recently finished her BSc in Psychology and BA Honours in Art History and Visual Studies at UVic, and is currently applying to the Early Education Masters Program as well as the Interdisciplinary Masters Program. Previously, Pascalle has worked for the Learning Assistance Program on accessible media development as well as a private behavioural therapist with children on the spectrum.
Inclusive and accessible education is important to Pascalle based on her observations of the differences it has made in the lives of the children she has worked with over the years. When everyone has a comfortable seat on the bus of life we all have the opportunity to enjoy the journey.
In her free time, Pascalle enjoys making music, creating experimental videos and settling down with a good book.
Go to Top