Our Team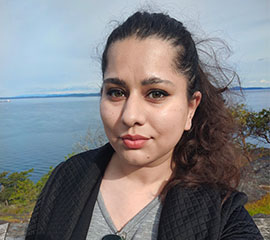 Ameera is a final year graduate student in the Leadership program, specifically focusing on the Adult Education and Community Engagement stream. She is currently working as a co-op Research Assistant on the Provincial Youth Employment Strategy team.
Ameera's research interests include exploring the role of media in creating positive/progressive discourse for marginalised communities, particularly from a systemic discrimination perspective. Her interests also include improving accessibility and creating better opportunities for marginalised communities. She hopes to apply her learnings to her country of origin – Pakistan.
In her free time, Ameera enjoys reading, blogging, and exploring the beautiful Vancouver Island.
Go to Top