Accessible Art Interface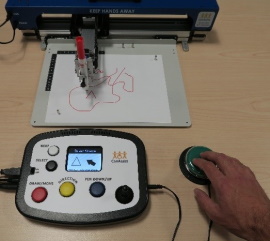 What is the AAI?
CanAssist's Accessible Art Interface (AAI) is a motorized assistive drawing device which holds and moves an art instrument, such as a pen or a marker, across a piece of paper.
How does the AAI work?
A letter size piece of paper is attached to the AAI's drawing board using magnets and an art instrument is attached to the AAI's drawing arm.
The AAI is plugged into a power outlet and operated by a controller featuring five low force buttons, a joystick, a high contrast screen and inputs for accessibility switches and USB devices.
There are four control methods for the AAI:
One button and a joystick (pen down/up and direction)
Two buttons (draw and direction)
Three buttons (draw, direction and pen down/up)
USB devices (mouse, trackball, trackpad, USB joystick)
The AAI has three drawing modes for users to explore:
Direct control - user has full control over the art instrument, deciding when the instrument touches the paper and where it will go.
Draw pre-set shapes - user selects a shape on the controller, chooses a location on the paper and the AAI draws the shape.
Step-by-step drawing – the controller is set to either draw in a single step or in multiple steps and then an image is selected. Users then tap a button or accessibility switch for each step making the AAI draw more of the image until the image is complete.
Who would benefit from using the AAI?
The AAI provides a multitude of ways for individuals to create art. The device can benefit people facing physical and cognitive barriers by supporting participation in visual arts. Overall, this device allows users to explore artistic self expression and contributes to establishing an inclusive and accessible environment for creating art.
Key Features
motorized drawing device designed to hold different art instruments
wired controller with inputs for accessibility switches, joysticks, and USB devices
four control methods
three modes for drawing
a portable case
Go to Top