Motorized Tablet Mount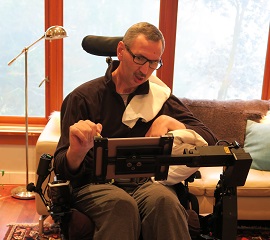 What is it?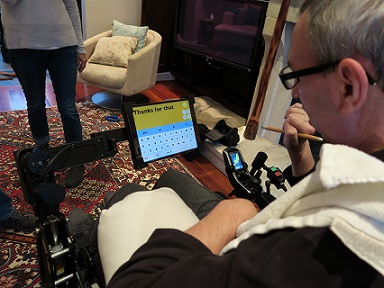 The Motorized Tablet Mount helps a person who uses a wheelchair to easily use and adjust a tablet independently. The tablet mount attaches to the side of the wheelchair through a quick-release system. Simply by pressing a button, a mechanical arm positions the tablet in front of the user. Pressing another button automatically stows the device away on the side of the wheelchair.
Key Features:
Holds a tablet firmly in place
Designed to be mounted on a wheelchair
Quick-release system allows for easy mounting and dismounting
Comes with a stylus holder
Battery-powered controller
Rechargeable
Who is it for?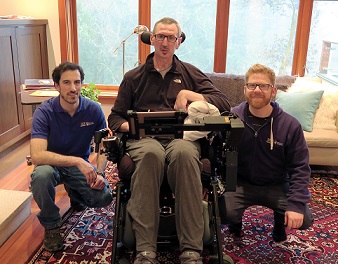 The Motorized Tablet Mount was originally developed for a client who experienced a stroke and now primarily uses a tablet to communicate. The client previously used an iPad mount on their wheelchair, but found it cumbersome and got in the way of other tasks. The previous mount also required someone else to secure it to the wheelchair when the client wanted to speak and to remove it when the client wanted to perform other tasks. CanAssist's Motorized Tablet Mount allowed this individual to set up and put away the tablet on their own whenever they wanted to use it to communicate.


Go to CanAssist's Video Gallery to view more technology videos.
Go to Top