Hitch Lift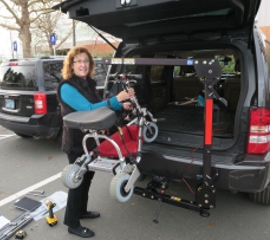 What is it?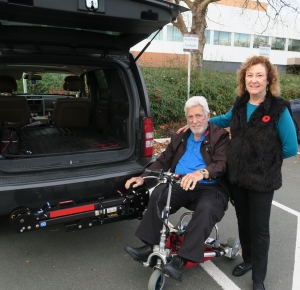 The Hitch Lift enables individuals to independently load a manual wheelchair, lightweight scooter or other mobility aid into a vehicle with very little physical effort or bending. The lift is battery powered and easily mounts to the trailer hitch of a vehicle, making it safer and easier for caregivers and other individuals to transport manual wheelchairs or lightweight scooters to appointments, social events and other activities. When not in use, the device can be easily folded for transportation.
Key features
motorized hoist lifts up to 50 pounds
remains on the vehicle, folding easily for transportation
compatible with most vehicle hitches
simple to install
lightweight and compact
Who is it for?
This device is useful for individuals who use mobility aids, relying on their spouse or other caregivers to bring their manual wheelchair or lightweight scooter along in a vehicle for appointments and outings. It can also be used by individuals who use mobility aids themselves, allowing them to lift their own mobility aid into a vehicle. In such situations, the Hitch Lift can help reduce the risk of injury to the person lifting the heavy wheelchair into a vehicle.


The Hitch Lift is one of the current CanAssist technologies with potential to have broad impact through commercialization. CanAssist is currently conducting a market trial to test how the Hitch Lift is received in the market place. As a part of this trial a limited number of Hitch Lifts will be available for purchase. If you are interested in purchasing a Hitch Lift please contact us and we will connect you to our commercial partners.
Go to Top