Toilet Step Stool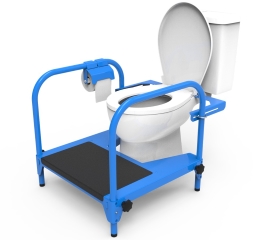 What is the TSS?
CanAssist's Toilet Step Stool (TSS) is designed to off­er more stability and a greater sense of security for children when toileting. The TSS is intended to support independent toileting by bringing children closer to the toilet seat and providing handles to help balance.
The stool collapses for storage and features a removable toilet paper holder. The smooth surfaces make the TSS easy to clean, while the non-slip platform and feet provide traction. The deep grab handles help support children while stepping and while seated. The three height settings make adjustments possible, thus providing comfort for children a different heights. The optional mounting bracket allows for the TSS to be secured to the back of the toilet for additional safety.
In April 2019, the Ministry of Children and Family Development (MCFD) granted CanAssist funding to develop solutions to help children across the province with challenges related to independent toileting. Commercially available step stools did not e­ffectively address this need, therefore, the TSS was designed and created in consultation with stakeholders throughout the province.
Please note that the funding for the Province-wide distribution of Toilet Step Stools has ended.
Key Features
smooth surfaces for easy cleaning
non-slip platform and feet
removable toilet paper holder
deep grab handles
three height settings
collapsible for storage
optional mounting bracket
Go to Top