Switch-Accessible Spinner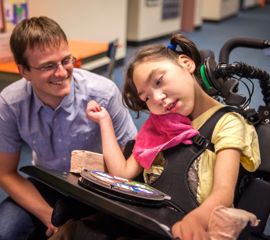 What is it?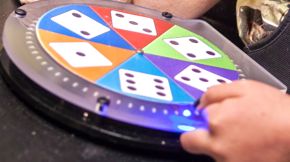 CanAssist's Spinner is a device that allows people with very challenging disabilities to participate in certain games and activities. An LED light spins around the circular device, eventually landing at a certain random point. Like a roulette wheel, users can't control where the light lands; but pressing a button (called an "accessibility switch") puts them in charge of activating the light's movement.
Key features
operates with any standard accessibility switch
charges via USB
users can create their own laminated cards for different games and activities
Who is it for?
The Spinner is for someone who may have limited dexterity and difficulty communicating. The device was originally developed for a child in a classroom setting so that she could participate in more activities. For example, attaching a laminated card that shows the six possibilities of a dice to the Spinner allows the girl to take part in games such as Snakes and Ladders. Likewise, she can use a card showing colors to control the movements in a game of "Twister."
---
Morgan's story
Morgan very much wanted to be able to participate more actively in her classroom.
The 10-year-old, who has a developmental disability, was referred to CanAssist by both her teacher and a therapist with Inclusion Outreach (a Provincial Outreach Program that works in the B.C. public school system, meeting the educational needs of students with severe disabilities).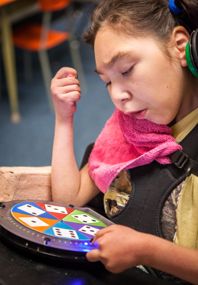 Specifically, the two hoped CanAssist engineers could develop a choice-making tool that could be incorporated into Morgan's educational programming and recreational activities. Because of Morgan's disability, the tool would have to be switch-accessible – in other words, controllable by a large single button.
CanAssist electrical engineer Carl Spani researched the area and discovered that a tool to suit Morgan's specific needs was not available on the market. Working with the girl's educational team, he developed a unique and colorful tool he calls the "Switch-Accessible Spinner."
"When Morgan presses an accessibility button with the side of her head, a tiny light races around the Spinner and lands on a random point," says Carl. "In this way, she can participate in classroom activities that require a simple choice."
An exchangeable piece of laminated paper sits on top of the circular Spinner. In one version, this paper features the six components of dice; but the paper can be changed to whatever the situation demands. For instance, the name of every child in the class could be included on a piece of paper – then Morgan could use the spinner to select the teacher's special helper that day. In another example, Morgan could help the teacher during gym class by determining with her spinner how many times the class should do a particular activity.
"The spinner allows Morgan to participate in classroom activities, even if it isn't in a conventional way," says Carl.
Funding for the research and development on the device was generously provided by the Ministry of Health and the CKNW Orphan's Fund.
Go to Top