Robotic Grabber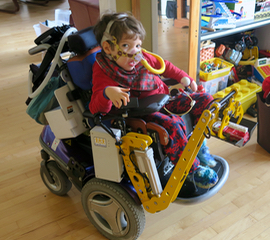 What is it?
The Robotic Grabber arm allows individuals with mobility challenges to pick up objects off of the floor. The device mounts to the side of a wheelchair and uses a joystick to raise, lower, open and close the bucket. The bucket has both a claw and a tray which allows it to either pinch or scoop objects to pick them up. The device is light and durable, and it can be used both indoors and outdoors.

Key features
can be controlled with a joystick that is mounted on the wheelchair
easily grips and scoops up toys and other objects
main motor raises and lowers arm while smaller motors open and close bucket
won't crush items or damage walls or floors
Who is it for?
This device is for people who use wheelchairs and are unable to independently reach down to pick up objects on the floor. For example, this user was able to pick up his toys from the floor with the use of his bright yellow excavator-style grabber.
Go to Top