Indoor Ball Launcher for Dogs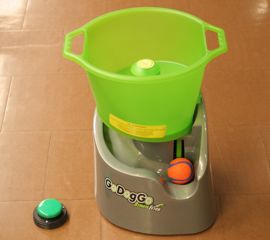 Over the years, CanAssist has developed three different devices that let people with disabilities play ball with their dogs. The success of these devices can be explained by what they provide: opportunities for independence along with interaction with a much-loved pet.
The very first design was created for Shannon Bromley, a sweet, quiet girl with cerebral palsy, who owns a small dog named Austin. When the Bromley family approached CanAssist, Shannon had very little independence or control in her daily life, including her interaction with her own pet.
Kathy, Shannon's mom, emphasized how much this lack of independence affected her daughter's life in the family home.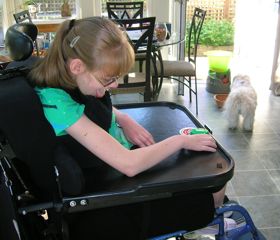 "She has no control over her life. She doesn't pick out her clothes, she does not control anything about her life," Kathy told us. A device to help her interact with Austin was a way to give Shannon something she could do herself.
The Indoor Ball Launcher for Dogs, which CanAssist created in response, is an adaptation of an off-the-shelf product called GoDogGo. This commercial product is battery-operated, can be used indoors, and includes a remote control that lets the user send balls whizzing across the room. While the device allows people to play fetch with a dog without having to throw a ball, it still requires that they be able to operate several buttons on a remote. This made it unmanageable for Shannon.
"We took the circuit board out of the remote and integrated it into our own system," recalls Darcy Lane, CanAssist's hardware manager. "We put our own circuitry into the GoDogGo device so that with a push of one simple button, the motor is wound up and the ball is launched."
CanAssist's electrical engineering team set up the remote function so it could be operated with a large green button – or "jellybean" switch – that sits front and centre on Shannon's wheelchair tray. Even with very limited control over her hands, Shannon is able to press this button and operate the Indoor Ball Launcher all by herself.
"For Shannon to be able to choose to push a switch and then have a reaction happen is huge for her," Kathy said. In the kitchen with the family gathered around, Shannon waits until everyone's eyes are on her before she pushes the switch. Now for a few moments of her day, she gets to make the decisions.
To learn more about CanAssist's other ball launcher designs see Mini Ball Launcher for Dogs.


Go to CanAssist's Video Gallery to view more technology videos.
Go to Top