Canoe Paddle Support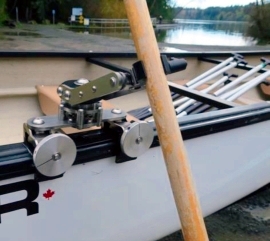 What is it?
The Canoe Paddle Support is a one-armed canoe paddle device that creates a simplified handle motion that is easy to understand and use, while still effectively propelling the canoe. The simplified motion allows people who only have use of one hand or who have a cognitive disability to participate with a group. The device has adjustable clamps that secure it to the canoe's gunnel and an additional clamp to hold onto a standard paddle. For ease of use, no tools are required to attach or remove the device or paddle.
Key features
can be easily used with one arm
adjustable clamps secure device and paddle
compatible with a standard canoe paddle
no tools required
Who is it for?
This device is useful for individuals who are unable to use traditional paddles but wish to be included in canoe trips. It can assist as a physical modification to support the propelling of the boat for people with physical challenges, as well as offering a stationary device for those with cognitive challenges. It can also give participants who otherwise would be afraid to try canoeing an opportunity to learn about it in a simple fashion that can educate them on the technique of paddling and build their confidence.
Go to Top