Captive Knife Cutting Board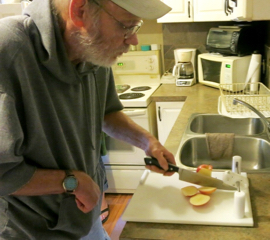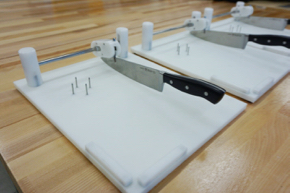 What is it?
This product enables people to safely use a kitchen knife using only one hand. Because the knife is held firmly in place, users can slice and move the knife across the cutting board with ease. Metal spikes hold food items securely while cutting. It improves on commercial options by allowing chopping and slicing using a high-quality knife, keeping food in place while working, and being able to disassemble the device and clean it all with one hand.
Key features
dishwasher safe
compatible with many types of knives
the knife is easily removed for cleaning
allows for chopping and slicing actions, as well as moving the knife across the cutting board
metal spikes hold food items securely in place during cutting
the base has four suction cups to secure the cutting board in place during use
Who is it for?
This device may be useful people who have limited mobility, dexterity or gripping strength on one side of their body; for example, those who have experienced a stroke or who have hemiplegia from an acquired brain injury.
Go to Top